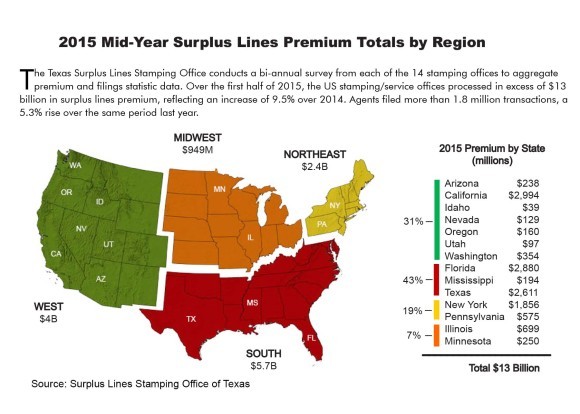 For many businesses, the concept of surplus lines insurance can be complex and confusing. The role of stamping offices in this industry can be even more difficult to navigate. Among the most important recent changes in surplus lines insurance is the creation of stamping offices. Such offices serve as a voluntary partnership between state regulators and the surplus lines insurance industry.
The role of these offices is to facilitate consistency and encourage compliance even though the surplus lines insurance industry exists outside the typical regulatory structure. While stamping offices might seem like a new concept, the idea actually dates back to the 1930s when the first surplus lines association was formed in California. Along with educating the public regarding this insurance market, stamping offices offer help to buyers and assist in evaluating the eligibility of surplus companies.
There has been some debate regarding the importance of the role that stamping offices play in regards to the regulation of the surplus lines insurance industry. Stamping offices certainly make it easier for consumers to locate eligible carriers. Additionally, stamping officers allow for a much smoother flow of information between licensed surplus lines brokers and the insurance office. In an industry that can be quite complex, communication can be essential. Furthermore, stamping offices assist surplus brokers with making certain they comply with local stamping requirements.
All surplus lines policies are required to be stamped. This means that the policy is stamped to clearly indicate that the policy is, in fact, a surplus lines policy rather than a regular insurance policy, which would be subject to state regulations.
Requirements may vary from one state to another, but agents are typically required to submit a copy of every surplus lines insurance policy sold to their state stamping office. That office will then be responsible for reviewing the policy to make certain it was placed properly with an eligible surplus lines insurer.
The consequences for failing to submit the policy to the state stamping office may vary. In most states, compliance in regards to the stamping office is strict and significant penalties may be incurred should a broker fail to comply.
While surplus lines carriers remain relatively free from regulation on a state level, particularly in regards to rates, this does not mean that they are completely free from all regulation. Surplus lines carriers are still able to act as free agents while responding to the coverage needs of consumers and changing market conditions, but adherence to stamping office regulations and requirements is necessary in many states.